This year at Pubcon Purpose Inc. and TallBox.com are hosting a few noteworthy parties and events.
One very exclusive event for companies grossing over $50m per year, and one event for everyone from the newbee with the brand new website, to the grizzled seasoned SEO who is attending Pubcon for the 14th time.
I will also be conducting a back room, invite only discussion on the Google factors that our million dollars of research has showed us Google is using to currently reward and penalize websites. This is the same research we use when helping our fortune 500 clients. It will be a casual event at our grand suite at the Wynn with drinks and food served. The event will be under a strict N.D.A. so all companies attending can speak freely.
To apply to attend if you control a site for a company that grosses over $50m please click here to apply to private back room event.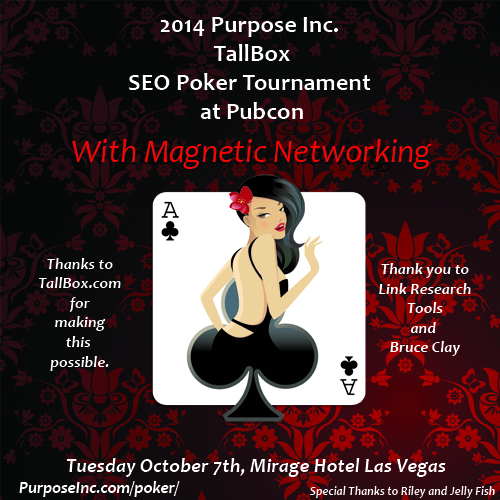 Register Here for Players and Free Guests for the poker tournament.
The 8th annual 2014 Purposeinc TallBox SEO poker tournament at Pubcon will be happening again this year.
Special thanks to TallBox.com and Link Research Tools for making this possible.
We also are going to have our magnetic networking to connect everyone coming (players and guests)
with each other in a fun, low friction way to find solutions to your goals.
It will be on the Tuesday night of Pubcon at 9:15 p.m. at the Mirage Poker room.
Registration in advance will be required for guests and players.
Free drinks for everyone all night!
We also will unveil our magnetic networking which is guaranteed to be the best networking during Pubcon.
This will all be during the poker tourney.
Players and Guests need to sign up through the link below to be admitted.
Signups are now open until we are sold out here.
Facebook Page on Purpose Inc. Events at Pubcon
Flash to a past years poker tourney.
Authority Labs also keeps a very up to date list of parties and events at Pubcon.
Monday night from 5:30 to 7:30 will be the kickoff networking official pubcon event. These events tend to be massive. It is at the convention center so may lack some of the "cool" factor of the other events, but it will be the most comprehensive event with the most attendees.