Those were the words that Coach Tompkins said to me after the fight.

During the fight, the crowd kept breaking into spontaneous, RANDY!, RANDY!, RANDY! RANDY! chants. When Randy went down the last time, I started a lead of that chant, but my words ended up getting stuck in a lump in my throat.
Yeh, I got a knot in my stomach when Brock was pounding on Randy's head, and a tear in my eye when the ref called the fight.
Three minutes later after taking a beating that would have sent me to the hospital or killed me, Randy was up, a smile on his face, a twinkle in his eye, thanking the crowd for their huge support, and making jokes about the fact that Brock is just, well, big! and that he could see those big ham hocks coming toward him!
Randy is a year older than me. How can I ever dare complain about anything or make an excuse about anything with him around?
He is a true champ, and I am so proud to be associated with him, his family, his coach, and his team!
I've never seen an individual who so deserves the name of champ. No matter what, Randy will always be the heavyweight champion of the world.
Congratulations to Brock for accomplishing the impossible. You have to give the guy credit, and a bow of respect for fighting and beating the unbeatable Randy.
My wife bought me tickets for my Christmas present, and even with the loss, it was one of the great nights of my life.
Here are pics from Thursday, two days before the fight, and from the fight itself.
You can see Junie in the background with his hot girlfriend also!
For those of you who don't know her, Sugarrae is a famous internet marketer, blogger and SEO.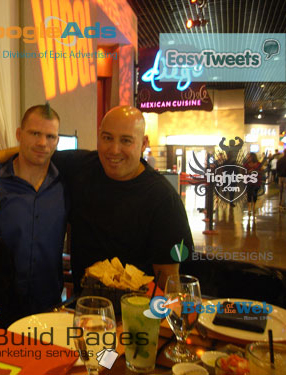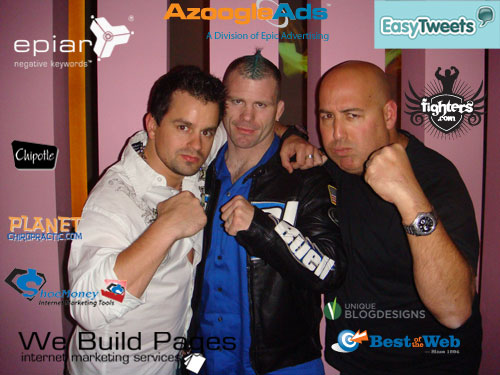 Mediadonnis, Josh Haynes and dk. What makes it even more strange and fun is that Josh used to be a computer engineer.
Coach Tompkins (Shawn) texted me that they were all meeting at Studio 54 so I shot over, and ran into Gina, Sam Stone, Junie, and a bunch of the other pros waiting at the bar next to it.
We went into studio 54, (Thanks Kim for getting us in!), which was a total madhouse! The crowd loves Randy, and just can't get enough of him. Sam Stout was there, and you can see all the fighters just love to see each other and hang out. A lot of them live out of Vegas, yet they are still Couture boys all the way. Shawn is like a father to many of them.
Then on the way out, we ran into Mike Whitehead who you can never miss in a crowd! He introduced me to the cowboy who almost was in our poker tourney.
We then walked for a few million miles until we found the valet. We ran into Martin Kampmann. I never knew he was from Denmark. He sounds like he comes from Chicago, and has only been in this country for two years. Like everyone in the Couture camp, he is an incredibly warm and nice guy! He busted out his Danish in response to my wife's Norwegian.
Then, back in San Diego, I was asked a couple of times by people today if Randy was going to retire now after that loss and his age. Each time I looked at them in disbelief and said, are you F-ing kidding me? He's just getting started! 😉