One of my favorite subjects is how much some people complain about small things, while others laugh about things that would make most cry.
There are hundreds of sayings about the difference attitude makes, but there are a handful of people you meet who live them.
Last year I ran into a guy in San Francisco, who does web design, and internet marketing. That's not so uncommon, right? But what about the fact the guy is blind. I mean like with a dog guiding him around the nightclub in San Francisco blind? Not being able to see other than very up close and doing webdesign takes some real cajones, and Jason has them 🙂 I am impressed.

In my interactions with Jason, he has been nothing short of professional, and a great guy to chat with.
I asked Jason to write a little something for my readers, and here it is: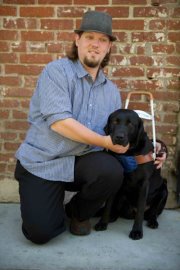 Some of you may have heard of marketers like Adil Amarsi, Viv Craske, Paul Barrs and Kris Whitehead. These are just a few of the people I either have worked with or am working with. You see I take pride in the work I do for my clients. I take special care to ensure each client get what they want and have paid for. It truly makes me happy when I receive testimonials like the one below.
"Jason is a breath of fresh air when it comes to working with web development. Not only is he an expert in his field, he is punctual and polite, as well as willing to communicate in a non-technical way to really connect with his client's. I recommend Jason with upmost enthusiasm, because he produces results…on time, and on budget, period."
The one thing that makes me unique against a sea of developers is that I am legally blind. Yep, I was born with and diagnosed at six months old with optic nerve hypoplasia – under developed optic nerves. The best way I can explain it is as follows. What someone with normal 20/20 sight can see at 400 ft, I can see the same thing from about 20 feet away.  Where most can focus in on something far away that's virtually impossible for me unassisted.  My vision works best up close, and thanks to a macbook and software like Adobe CS and web based software like WordPress I'm able to easily create beautiful works of art geared toward my clients businesses.
From an early age of 8 I knew that I was going to have my hands deep in some form of programming. Initially it was games and over the years that dream has transformed into web development thanks to an aunt of mine. She suggested I take a look at a continuing education class for web development. After more classes on the subject and several jobs I had made the decision once and for all that I'd work for myself!
The time for me to strike out on my own was after I had a job as a deli clerk. Over worked and underpaid I would work tirelessly after the day was done and on days off. Finally after realizing that it was pointless to be building websites if people couldn't see them, I decided to delve into IM.
Since then I have been on a mission to work with the worlds leading marketers and everyone in between. For my portfolio and more testimonials like the one above visit http://jasonbakerwebconsultant.com Will you be the next marketing genius I work with? Well, we won't know unless you set up an appointment with me.
Click this link to schedule your 30 min appointment now…
https://www.timetrade.com/book/SB6Q6