Written by / Posted in
seo
/ 3 Comments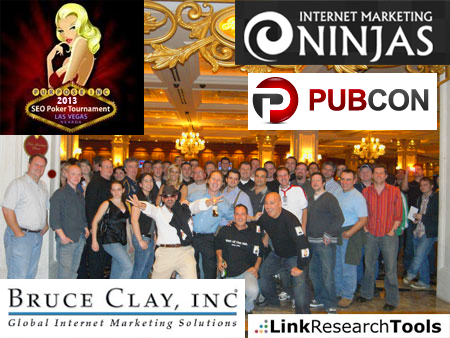 Pubcon Parties and the big 2014 Poker tournament, go here.
=========
The below is about previous years 2013 parties.
Letter to my friends 🙂
Want to network?
The big texas holdem tournament registration is now open.
There are limited spots: http://seo-poker-012eminv1.eventbrite.com
I have cleverly planned a little upscale networking for you, and all
other players and guests at the tournament. It is the catalytic networking.
Free drinks and In and Out burgers are provided for Guests and Players
thanks to the Mirage and our sponsors,
Bruce Clay, Internet Marketing Ninjas, Link Research Tools
Also, this past year we have dedicated ourselves to reverse engineering Google's
algorithm. We made a ton of money for our own and clients sites this past year.
I am going to be sharing at my invite only back room talk during Pubcon.
Also, if you care at all about high quality, white hat link building. I will just say this bluntly.
We rock it. We have new techniques that are just killing it right now. We have been doing this
over the past year for fortune 500 and large website clients.
To be a guest at the big tournament, or play, register here:
http://seo-poker-012eminv1.eventbrite.com
Nevada gaming makes it almost impossible to have a true charity tournament any more,
so instead this year we are promoting Water School along the way. Also the sponsors
and myself are donating to this fantastic charity.
In a nutshell, they teach people in Africa who would die of Dysentery, and other viral and
bacterial diseases, how to use a simple empty soda bottle to kill viruses and bacteria in the water.
Voila! Less death.
We have been putting out facebook ads, emails, blog posts and more to promote
our awesome sponsors who are making this possible:
Bruce Clay, Internet Marketing Ninjas, and Link Research Tools.
All by the way get my own personal seal of approval as rocking companies. 🙂
We need a few more sponsors.
If you have a couple of bucks, and want to make a cooler event cooler, just email me at dk (at) purposeinc.com
We have sponsorships available at all levels.
Be cool!
much love,
dk
P.S. You got to the bottom of this so either:
sign up as a player: http://seo-poker-012eminv1.eventbrite.com
sign up as a guest: http://seo-poker-012eminv1.eventbrite.com
or email me back and offer up some super cool sponsor money for the crew 🙂 dk (at) purposeinc.com