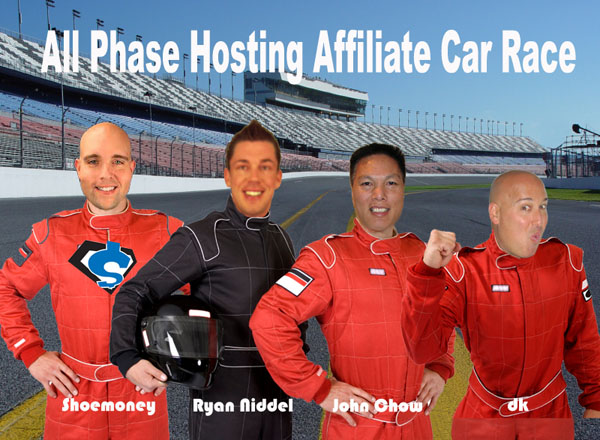 Shoemoney is in!
We've got Shoemoney, John Chow, Ryan Niddel and me battling it out on the Las Vegas Motor Speedway on 1/13/13 from 3pm to 6pm.
All thanks to All Phase Hosting!
I'll go into more detail on how awesome they are later in this post.
We've still got some room for drivers and spectators.
If you are interested in being a part of this deelio, please apply here:
http://www.surveymonkey.com/s/H6PGFL9
We'll be racing exotic cars like Aston Martins, Ferraris, and Lambos.
It is going to be rockin' and I cannot wait to hang out with some of the best affiliate marketers tomorrow.
Added bonus, whoever wins, All Phase Hosting is going to donate $1,000 to the winner's choice charity.
If  you want to attend (even if you don't) and you've got a blog that has some eyes on it and would like to put up a blog post about this event hit me up here, http://www.surveymonkey.com/s/H6PGFL9,
I may be able to get you in as a driver.
On to All Phase Hosting.
They are putting on the Affiliate car race tomorrow which is going to be amazing.
Just a few things about what they do not to mention the founders of All Phase are really good peeps.
They are putting together an awesome opportunity for anyone interested in affiliate marketing that goes just a step further.
Basically, they help you create your own domain/hosting business.
You get your own email list, branding, control over pricing, and what you want to offer your customers in terms of selling domains, hosting, or both.  The hosting company is yours, but All Phase will set it all up and provide live customer support to your customers.
This is an incredible opportunity and I believe will truly change the affiliate landscape.
If you are interested, check it out, no commitment: http://allphasehosting.com/vip/
After the the car race, I've got my backroom talk about what is working at Google.
It's an invite only deal for those looking to make their site rank even better in Google.
If you'd like to apply for an invite, go here: http://www.surveymonkey.com/s/P8MGDFZ

Location: dk's Penthouse Suite at the Mirage
Sunday – 1/13/13 – 6:30pm to 9pm
Strict NDA
In 'N Out Burgers & Open Bar
The fun is not over yet!
We've got the All Phase Hosting/Purpose Inc Poker Tourney on Monday, 1/14/13, at 7pm.
If you are down for the flop, turn, and river join us at the Mirage Poker Room.
It is a $50 buy-in.
To sign up for the tournament go here (guests are welcome):
http://purposepokerasw13.eventbrite.com
Can't wait for the festivities to begin!