I get hired by lots of companies for my honesty. Truly, if you are willing to lie and cheat the consumer, it is more possible to make more money in the short term. That just isn't the way I roll, and it would never work in the long term because eventually you will get caught by the government, or just run into something truly lousy with a customer.
I have been studying a lot of Frank Kern's materials lately, and you can see how truly honest he is being in his videos, and marketing. The guy is straight up in your face telling you exactly what he is doing and why, and encouraging you to be that honest and direct. I love it.
So here are a couple of funny, and maybe a little scammy? things I came across from my bank and on facebook. I will let you be the judge.
I go to log into my Bank of America corporate account.
I get this screen (click to see it), not as a pop up, but as the only screen in the browser. The only edit I have done, was to cut it down. there were no other ways I could see to click out of it, or move on to my account. It is full size, but your browser will probably show it reduced. Download it to get the full effect. LOL
There is the obvious red button option at the top to DONWLOAD NOW, exactly as I would have put it, minus the girl in the bikini pointing at it.
But what if you want to go on to your account, and just check your balance? It took me a good 30 seconds to find that link.
It says they are not selling anything, but simply trying to protect your PC. Reviews online show it is pretty benign, other than the fact that it can give users with infected PC's a false sense of security. OK, so maybe B of A is not trying to make any money off of it, but it definately shows you an example of how to force someone down a sales funnel to download something.
I personally would have closed the browser window and gone somewhere else, except that I needed to check my account!! LOL
The next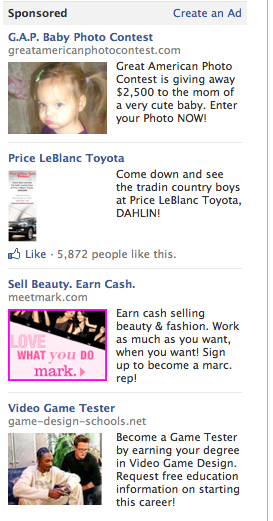 set of ads comes from facebook. I am back to doing a fair bit of facebook work this month. There are two ads on this page, both taken at once, that really grabbed my attention.
First lets look at the top one, the Gap Baby Photo Contest. The reason this caught my eye was that it was being shown constantly, over, and over, and over. I could not help but notice it.
I thought, wow! with the Gap, one of the largest online clothes retailers in the world having a photo contest, that they are spending at my estimates something like $10,000 an hour on, then this must be huge! They must really know they are getting a huge ROI on it.
I then study the ad carefully to see what I can learn from it. Ohhhh…. greatamericanphotography.com,
G.A.P., get it? Gap, G.A.P, Great American Photography?
So obviously if you tried to pretend you were Gap the clothes manufacturer, you would get busted, but if your company name already is abreviated that way, well, Trademark Attorneys?
So these guys are either gonna get in a bunch of trouble, are geniuses, or don't realize that G.A.P. will be assumed to be the same company as Gap? You decide. 🙂
The next ad is the one on the bottom.
Your typical Istock photo advertising becoming a Video Game tester. But wait, that 13 year old black kid playing video games looks kinda familiar. Hmmmm. Oh yeah, What's up Snoop?
I really like some of his recent music, but if he needs to make extra money testing video games, god bless him.