Written by / Posted in
affiliate
/ 9 Comments
Ricky Ahuja hooked up with me at Affiliate Summit in Vegas a few months ago. He is a Purpose Inc fan. He is also a Sikh. Sikhism is a lovely religion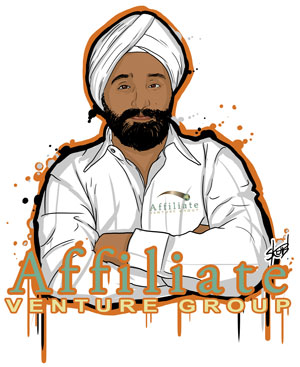 that first learned about in college. Their fundamental beliefs are in faith and justice. (I love a religion that includes justice!) Protecting the religious rights of others, and and preventing all discrimination of all races is a fundamental precept of Sikhs. I remember learning in college that Sikh's were used as bodyguards for European royalty for centuries, and were the last group allowed to carry weapons onto airplanes, because of their fame of honesty and integrity. You will usually know a Sikh when you meet them as their last name is usually Singh. Also Sikh's wear turbans, but they come from the north of India, not the middle east. So don't look like a typical American, (Or European) and assume that anyone in a turban is from the middle east ;).
I asked Ricky about monetizing Indian traffic. His response was so complete that I decided to post it as a blog.
Ricky is founder, and CEO of the Affiliate Company, Affiliate Venture Group.
How To Monetize Indian Traffic – Guest Blog by Ricky Ahuja
To be frank with you, Monetizing Indian Internet traffic is not an easy task. And it is not the same methodology that works with any other countries traffic on the Internet. India is a huge country and it is growing in terms of Economy, GDP and a strong presence in the World map and of course the percentage of Internet users.
You can check out here the standings of Top 20 countries in terms of Internet usage. I am sure you will be astonished to see India in the 4th position globally: Internet Usage – Country wise
Surprised? You should be by this time. Well, Internet Marketing has a long way to go before it truly becomes fruitful in India. So if you have a website and you have traffic, I will tell you the best possible methods to monetize the traffic.
1) Google Adsense
With no second thoughts I can tell you that there is no better way to make money online unless it's from Google Adsense clicks on your blog or website. The majority of the Internet users from India are online because they are in search of information in all possible topics that you can think of. Since Google Adsense is a contextual based advertising you can easily get clicks on the ads and make money with every single click.
Hold your horses before you learn one more fact about Adsense clicks by Indian internet users. You cannot expect more than 10-70 cents per click since advertisers on Adsense network don't shell out money to a great extent like that of other developed countries. They rightfully do that because the chances of an Indian clicking on an Adsense ad and then purchasing something online is almost zero.
The Reason:
Now I will mention why the Indian Internet scene is like this though the Internet users are of great numbers. Indians are very paranoid about their safety online and even if they have a credit card they might have not used it even once on the web. This trend will eventually change in the coming years for sure but until then you just cannot simply ignore the Indian web traffic.
The above data is not true with every single website and blog on the internet. If the niche that you are into is competitive then the cost per click will be much better.
The ad placement on your blog or website must be really good because the more clicks you receive then you will be making more cash. All said and done it's your website and you should take a wise call and experiment with Adsense a lot before it can fetch you any significant income.
2) In-text Advertising
Advertising companies like Infolinks and Kontera can also fetch you good amount of money provided you get huge amount of clicks. The cost per click is way too lesser than Adsense but if you don't have an Adsense account then this may be your best alternative.
In-text advertising should be carefully gelled on your website because it can look very distractive and your users might get annoyed easily. Do not hyperlink more than 4-5 keywords or phrases in one single page. You should use in-demand keywords to get advertisers target your website more. By doing this you will also increase the cost per click from In-text advertising companies.
Good thing if you have an Adsense account already approved because it is ok to use In-text advertising along with Adsense. There is no policy that restricts you from using both the methods on the same website. So you don't have to worry about getting banned from Adsense.
3) Affiliate Marketing
You have to be very picky about what type of affiliate marketing programs you will be promoting on your site. Unless you have completely analyzed the Indian traffic that you are getting on your site then there is no possible way you would be able make any significant money from affiliate marketing.
The things that you should take into account about the India traffic while using affiliate programs are:
1)   The top pages accessed by Indian users on your website. You can use Google analytics to find this out.
2)   The entrance keywords to that particular topic that is read most.
3)   Top exit pages on your website.
Once you have an idea of what your users are seeking then contact your favorite affiliate network (might I suggest Affiliate Venture Group ;-)) and ask them what they have for international traffic. Often times, these campaigns may be kept private so truly dig in and sell your AM on your international traffic. Dig a bit deeper, you will see many emerging Indian based affiliate networks and it is these guys who are positioning themselves for success.
These are just some of the generic things that you should be aware of before monetizing your website. This is true with any sort of affiliate program because without knowing what sells on your site you just can't sell anything at all!
In my experience, lead based CPA programs works very well. Matrimonial/Dating, free downloads based programs also attracts a huge number of clicks and it can convert very well.
Other online services, downloads related to Movies, games, music and other free stuffs always converts very well with the Indian traffic. You can also advertise programs related to Free Antivirus, antispyware, antimalware and host of other PC security programs. Registry cleaners can also fetch you fair number of hits because like everyone else Indian internet users are also very much concerned about their computer security.
Anything which is free always works out well with the Internet crowd and it's no different with the Indian users. Actually it works better than you expect, that is, if the offer is attractive enough.
Conclusion
My advice to you is do not ignore the Indian segment because they are truly expected to be "the next big thing" in the coming years. It is even estimated that India will be a super power by 2020; furthermore, it is expected to surpass China very shortly in terms of economical abundance.
The money is there, it's just that newer ways have to be adapted to make the advertisers spend and also make the Indian users buy more online. With the changing trends Indians have finally come out of the closet and started booking movie tickets online. Not just the movies, even other sporting events, concerts and other party events.
Groupon'esque like sites have been leading the Indian market for the past few months. This is definitely something the advertisers should think of getting into. Internet marketing is an emerging phenomenon in India, so being a website owner you should start experimenting with the Indian traffic and make the best out of it.
Your feedbacks and suggestions on this topic are welcome. Do share your thoughts on this subject. Hope this helps you in monetizing your Indian traffic.
Ricky Ahuja is the CEO of Affiliate Venture Group, a leading affiliate network that offers over 10 years of experience in the online marketing and lead generation industry. He also runs a successful blog at www.rickyahuja.com and feel free to follow him on Twitter