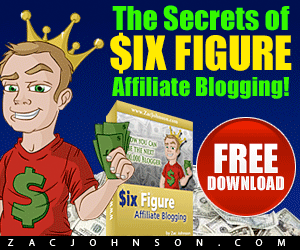 Zac Johnson is the internet marketers internet marketer. Zac is swimming in some of the toughest waters, marketing to marketers.
I know what this is like, because I do the same thing.
Zac has a new e-book to help you become a 6 figure blogger.
I can already tell you why this is going to be a success.
Here is why.
He picked a 1oo K as a target, not a million bucks.
I believe Shoemoney said he is making somewhere like a million bucks a year from his blog.
I bet John Chow is somewhere in that range as well.
My blog and I bet most of the other famous bloggers you read make at most in the hundreds of thousands per year from their blog,and the closely related activities around it.
Zac obviously knows this subject, as he has done this for years.
Zac is Leveraging his Friendships
Zac is a very well liked guy. I have never heard or seen a single word written badly about him.
This is not easy to pull off when 100's of thousands of people know who you are.
Zac sent out an e-mail earlier letting me, John Chow, and I am guessing Shoemoney and others know about his affiliate program for the launch. Since there is no income coming directly from the book, he is doing a contest instead on how many people he gets to sign up.
Although he did not say it, I am assuming he is building a quality e-mail list of those interested in building a profitable blog, and he can monetize that list later.
There is Broad Appeal to Zac's Product
This has the potential to get him hundreds of thousands of contacts in a very short time. How many people want to make money blogging? I had recently seen a huge spike in traffic to Jonathan Volks website, and asked him what happened. He said it was nothing more complicated than his writing an e-book and making it widely known. Almost everyone in America and Europe knows what blogging is. Almost everyone in the U.S. and Europe knows that people make lots of money on the internet. The potential number of people who could read this book are limitless.
Zac made it easy to get in.
No money down. No commitment. There isn't even a hint as to what is in it for him. In fact, once you download the book, there is nothing to keep you from forwarding it to your friends.
Money and Recognition in it for Those Who Help
I can already guess that Shoemoney is going to win the contest even though he hasn't blogged on it yet, and John Chow will probably get second.
My traffic is usually about 1/10th the traffic they get, so I predict I will win one of the $100 prizes. Now $100 isn't really enough money to make it worth my time to write this blog. But on the other hand Zac is my friend, and I want to help him. Also, if Zac posts me as a winner, it get's me more traffic, followers, links, notoriety etc.
A casebook study, and executed perfectly.
By the way the e-book rocks. I have allready learned a ton from it. Plus there is a chapter by me. 🙂
Go here to get the book for free on becoming a 6 figure blogger.
Go here to be an affiliate for the e-book.
Why You Should Be an Affiliate for the 6 Figure Blogger book.
Zac is a big shot, successful and busy.
If you want to get his attention, and start the road to friendship with him, be an affiliate.
This e-book is a big deal to Zac. You can tell by the work he put into making it so dam good.
I promise you he will be studying where every sign up came from.
Even if you only get 10 signups, Zac is going to notice.