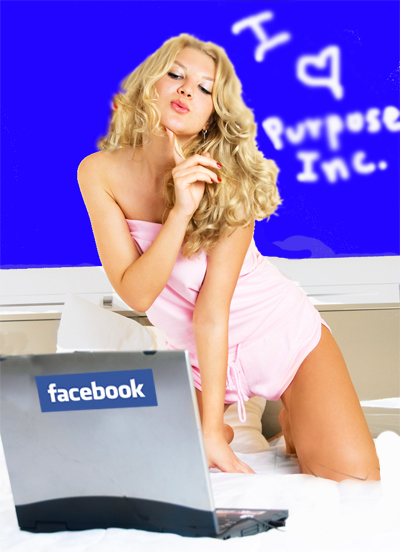 I just got a beta invitation to facebooks conversion tracking. We have been clamoring for this for a while and now it's here.
I literally just opened it up and will be testing it this weekend.
There is a new link in my facebook account, called tracking.
At first glance you fill in a tag name, you make this up, assign a category of the type of conversion, and then give it a value of what it is worth for you.
This generates a code that you paste just above the body tag on your landing page.
Then very simply, every time the page loads, it sends the data to facebook, and they record that as a conversion.
What this means is that you need to send the visitor to a page, after the conversion takes place, where you are going to put the code.
You can also track people through a sales path to figure out where you are losing them.
This paragraph fascinates me from the help PDF.
In your reports, if a converting user clicked on an ad associated with the tracking tag's advertiser account, the conversion is attributed to the last ad the user clicked; if the convert- ing user never clicked on an associated ad but simply saw an associated ad, the conversion is attributed to the most recent ad the user saw. Note that reports may be delayed up to one day.
The phrase "if the converting user never clicked on an associated ad but simply saw an associated ad, the conversion is attributed…." implies to me that it is not going to track only click throughs which we are used to, but WILL TRACK VIEW- THROUGHS. A view through was first brought up to me by Marcus Frind. That is the concept of the user seeing the ad, but not actually clicking on it, and then googling or typing in your site later. My initial experiments on this without this new tracking did not show a result, but Markus Frind claims it is more significant that click throughs.
(hours later)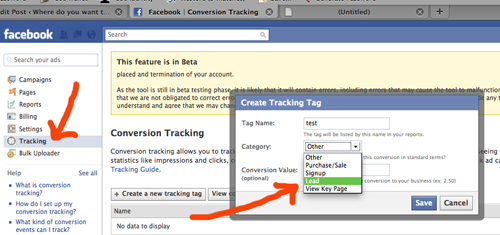 This actually is what this tool does. Unbelievable. Just when facebook advertising was getting figured out fairly well by a few of us, the game is on again. These new variables will require a much more sophisticated analysis, but will also allow for much more efficient spending of clicks.
This ties in again with the idea of the ultimate user experience.
It is also interesting that this coincided with facebook tightening up a little bit on some of the advertisers recently.
Lots to learn and lots to test in the upcoming days and weeks.
Stay posted!