Follow these steps to get in before it sells out as a player or guest. Both get free drinks on Nov. 12th  from 8:00 p.m. to 2:00 a.m. Mirage hotel.
Here is sign up but read blog first! or you may lose your seat. 🙂
1. BE INVOLVED IN THE INTERNET BUSINESS INDUSTRY, OR A PUBCON ATTENDEE.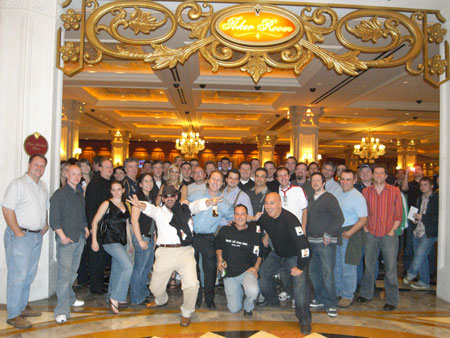 Requirements, 21 or older, either a Pubcon attendee or involved with Internet business stuff. If you are a total NOBODY, don't know anyone, junior webmaster, coming to your first Pubcon, this tourney is especially for you!! (All Mirage rules and laws apply and supersede my rules :)).
2. PICK A CHARITY YOU LIKE
It can be totally your own pick, any charity at all.
Here are some recommended ones if you can't think of one.
Missy Ward (boob master) and I will be raising money for the National Breast Cancer Foundation. Breast cancer sucks. My friend Chris Parham, doctorate in engineering, M.D., and getting his radiology degree and some of his buds invented a way to take mamograms (boob x-ray) with something like one onethousandth of the radiation. This new method of doing mammograms is way safer than the old way, (even though the old way is still a good idea), gets better pictures of cancer when it is smaller and starting, and will save probably thousands of lives per year. With early detection, and proper surgical techniques, breast cancer can be caught and cut off at the pass before it kills. Study up here how to do a self breast cancer exam, and hey! Guys can learn too! ?????
Two of my favorite charities are:
Criminon that gets into the worst prisons in the world, and works to help prisoners get off drugs, change their viewpoint on crime, be productive, and help others. The success stories speak for themselves.
Here is another one that really hits home with me. With the white man's exploitation of africa, (I'm kinda white and brown at the same time 😉 and the fact that man is originally is probably from Africa anyways, I think we still should help out there till they are up to speed with the rest of the world.  Samburuland is an area with gentle, lovely people, who get hit pretty hard by droughts. Also the elephants walking the same migratory trails as the people could use a drink now and then as well. Wherever The Need, who I have checked out pretty well, are raising money for this way bitchen project. Dig some big fricken holes along the path of the river, that fill up when it rains, and provide water during the dry season. This happens naturally already, but they are just kicking it up a notch. This will help the nomadic people and large game at the same time.

Or use any charity you like for this!!!
My note on charity. I am all about the teach the guy to fish thing. My goal in any charity is to help others to help themselves. That is why when there is a company like Azoogle, We Build Pages, Train Signal, or even Shoemoney himself, I will do a ton to help them because they help so many other people. Helping the strong who give to others is a very high leverage opportunity with high ROI 😉
3. WRITE A BLOG ABOUT THE CHARITY

Write about the charity. If you don't have one, go set one up at wordpress or blogspot. Write whatever you like. Draw a little attention to something, that someone is doing in the world that you dig and makes the world better! John Chow has drawn attention to Africa. Jim Boykin, who sponsors the crap out of the Purpose Inc pubcon events, poker and otherwise, EVERY SINGLE YEAR! also supports lots of other charity events, here is one of his blogs on one of the charity fundraisers for Ronald Mac Donald house. Some of the heavy hitters have even gone so hard as to create their own bad ass organization to raise money for good causes on an ongoing basis, including Graywolf who consistently promotes other good charities like this fundraising party sponsored by Best of the Web. If you check Sugar Rae's site,  you will find she promotes her charities at the bottom right of every page! Lauren Vaccarello is always involved in some way in virtually every internet marketing charity event you will come across.  In fact it was her who carried the money bag while me and Dave Snyder acted as the muscle. And then there is Marcus, who has taken helping through charity to a whole nother level, not just donating money, but rolling up  his sleeves, and his machete 🙂 when needed!
4. PUT ONE OF THE POKER TOURNAMENT GRAPHICS IN THE POST
Pick any one of these, any size. If you understand capitalism, then put one with the sponsors on it. If you are a total socialist, or just like the look better, then use one without sponsors on it. Here are a whole bunch of sizes available for you!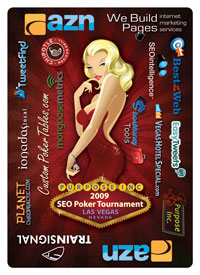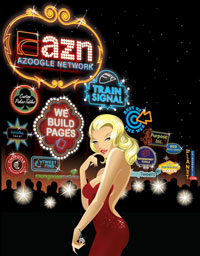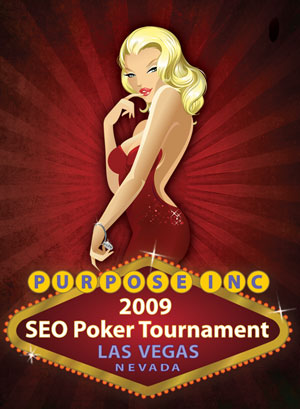 5. EITHER PING BACK TO THE COMMENTS SECTION BELOW (NOT REQUIRED) OR LEAVE A COMMENT BELOW LINKING TO YOUR POST.
Obviously I looooove links! On the other hand, links are not required. Just leave a comment below so I know that you wrote your post on a charity. If you link to this page I will allow the ping back to show up and that counts. If you register, and you are not listed below, your registration may be reversed. Once all spots are taken, there are no more. 🙂 Unless you're name is Alex and you founded one of the largest Affiliate companies that rhymes with Google and I will allow you in.
6. GO REGISTER EITHER AS A PLAYER OR A POKER PARTY GUEST AT THE TOURNAMENT
Click here to register as either a player or a guest. Players need to pay the buy in fee to get in. Guests are just that, guests. You can also pay and register for the fight club training with the 6X world champ in Brazillian Jiu Jitsu if there is space.  All the other events are open to everyone with no sign up. Once the tournament fills up, you can register for free as an alternate. We will go by the alternate list, quickly reading it off that night to fill the seats. If you are not there and waiting when your name is called, you will not be playing. If you pay and don't show, no refunds.
7. Show up at the Mirage Poker room at 7:30 November 12th
the night of the tournament to check in. Those not checked in by 7:45 will lose their seat to an alternate on the list. This is a real poker tournament, the real deal. First place will be over $4k, plus a custom poker table by Custom Poker Tables.com, plus a bunch of free Chipotle certificates, plus other stuff. In the prize pool will also be a chocolate fountain for first out, a couple nights free room at the Mirage. If you have something of value you want to donate, hit me up! We will probably pay down to 10th place.

FULL DISCLOSURE
Only read if you are bored. 🙂
No refunds under any circumstance.
Purpose Inc. events at pubcon are sponsored by the bad ass sponsors listed above. When it all shakes out Purpose Inc. either lose money or make a profit on the whole thing depending on the year. The sponsorship money for the poker tournament, only covers poker tournament expenses, and no profit is made. The sponsorship money for the other events may or may not make a profit! LOL This year due to administrative snags the tournament is not a charity tournament. All money that goes to the buy in from the players goes to cover the pot, the Mirage's expenses, and maybe a little left over for t-shirts but probably not. 🙂