Randy Couture, his family, and pro M.M.A. fighters raise money for disabled American Veterans with a little help from Shoemoney and Purposeinc. A story in pictures.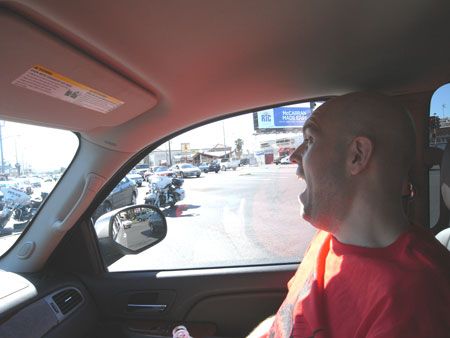 Shoemoney, Friday morning. This is a typical reaction to my driving.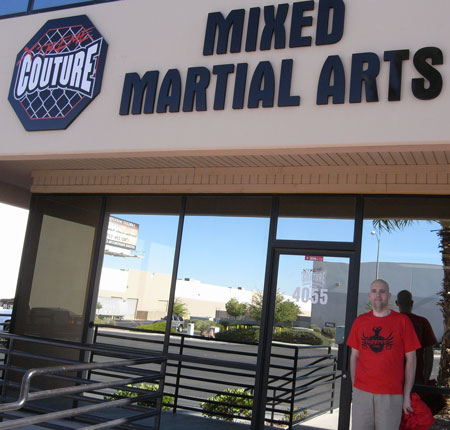 We spent the day at Randy Coutures Gym for Mixed Martial Arts.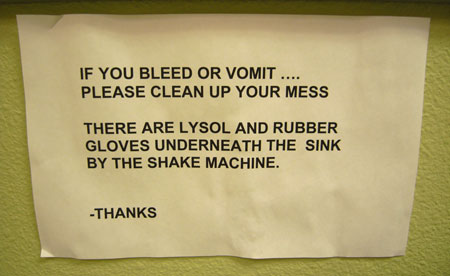 This place was seriously for training. Note above "By the Shake Machine"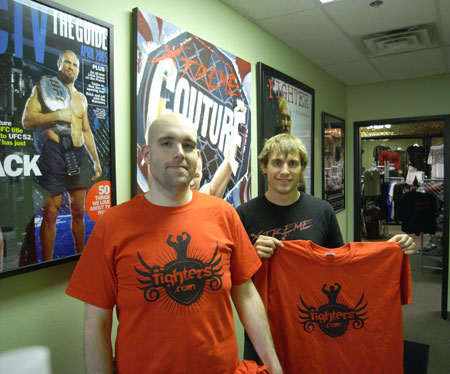 We met with Ryan Couture, Randy's son. Also are Jeremy's new Fighters.com shirts. They are actually red, and look cool, but show up orange in some of my photos.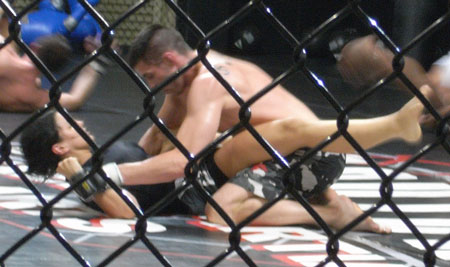 This is Gina Carano fighting. She also is Crush on American Gladiators. She was lighthearted, funny, bad ass and hot all at the same time. The pros train there from 4 to 6 each day. Ryan and Randy were gracious enough to let us sneak in. You can also watch the training each day online for a fee.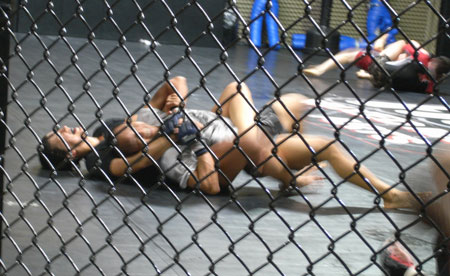 Gina going to town. She was only training with guys by the way, and they did not seem to be pulling any punches.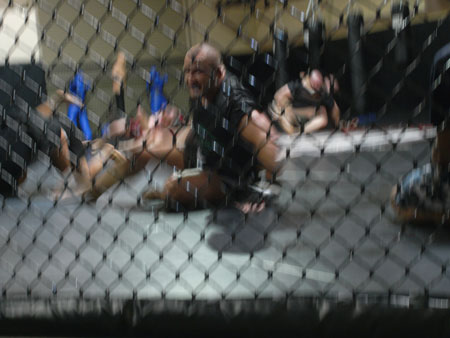 This is Mike Whitehead in the middle of training. He trained hard. At first glance like myself he looks like a big, mean guy. Once you get to know him, he is really nice, and fun.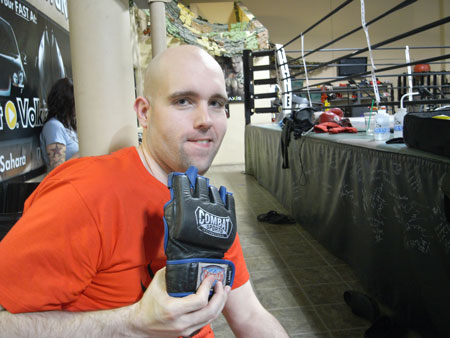 Here is one of the gloves they use. You will notice there is a little padding but not much. Jeremy says that when they have tested these, the force of a punch is about the same as if you had no gloves on at all.
Friday night, my wife and I, went to Mainland, a new restaurant in the Palazzo hotel and casino by the Venetian. Mainland was unreal, a good bargain, and has a picture of Mao and Elvis as their main graphic.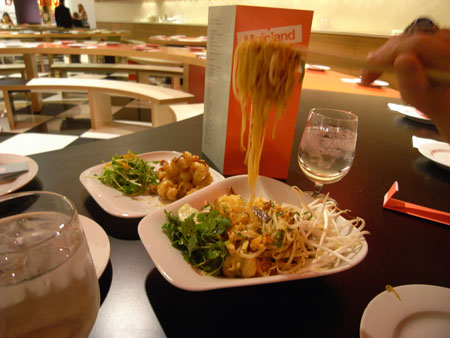 Pad Thai, I wish I had some now.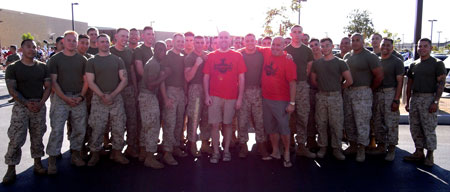 Saturday morning Randy Couture had the 5K to raise money for his charity, the Xtreme Couture GI Foundation. Shoemoney and I posed with a group of Marines there to run the event.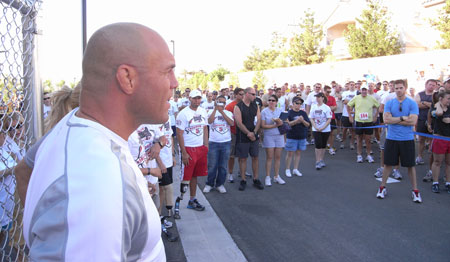 Here is Randy with everyone ready to start the race.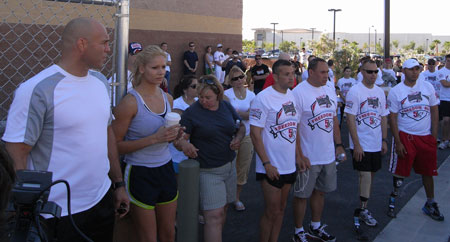 This is Randy, his pretty wife Kim (Sugar Free) Couture (also an MMA fighter) and some of the guys who have gone face to face with I.E.D.'s and other Middle Eastern Explosives. Notice the artificial running legs. These were way cool!, and Randy's charity buys these for some of the guys.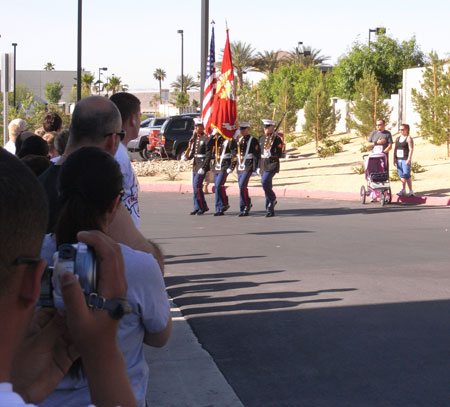 The U.S. Marines had a color guard. The played the national anthem. As they played the national anthem with me and Shoemoney standing by Randy, and the disabled Veterans, I really felt a sense of responsibility as an American to help take care of these individuals who had sacrificed so much for America.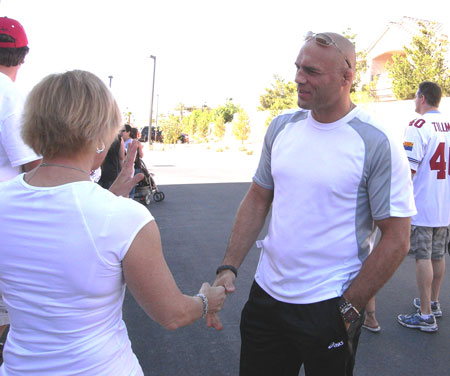 Randy was so surprisingly sweet and nice it would have blown you away. He is not that huge of a guy, but simply a brilliant and able fighter. His eyes just glowed and he exuded warmth and took time to talk to anyone who walked up to him. Having someone like this at the pinnacle of such a sport serves as an incredible role model for millions, of warmth, generosity, and patience. I was really moved by Mr. Randy Couture.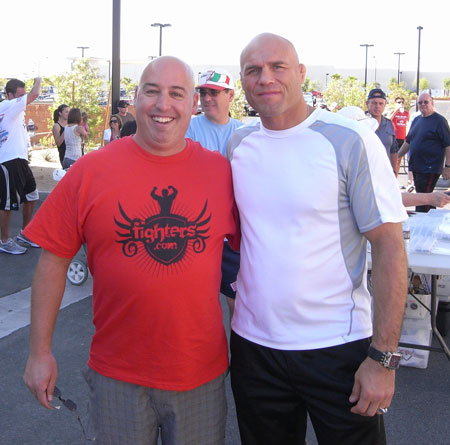 Randy Couture and me! As a kid I studied a few types of martial arts. The argument was always there as to which martial art is best, Kung Fu, Thai Kwon Do, Kempo, Shotokan, or one of the others. The fascinating thing about Ultimate Fighting, or MMA, is that it sorts this out. You feel very safe when standing next to the best fighter in the world.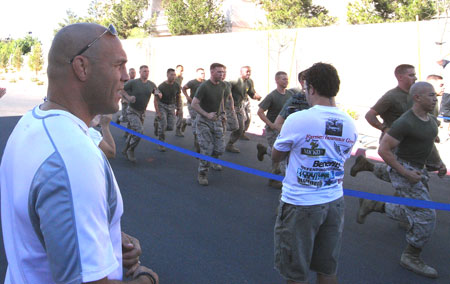 When the race started the marines took off running in cadence, which means that they have a Marine chant that they sing as they run.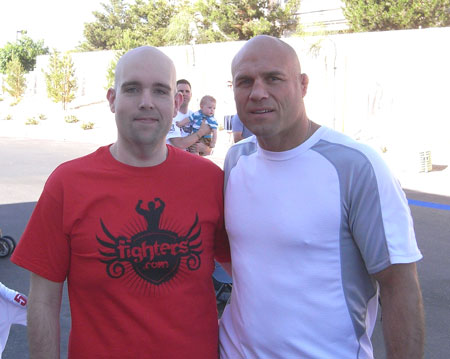 Here is Shoemoney with Randy Couture. I was real happy to be part of that moment, because I know how much Jeremy loves M.M.A.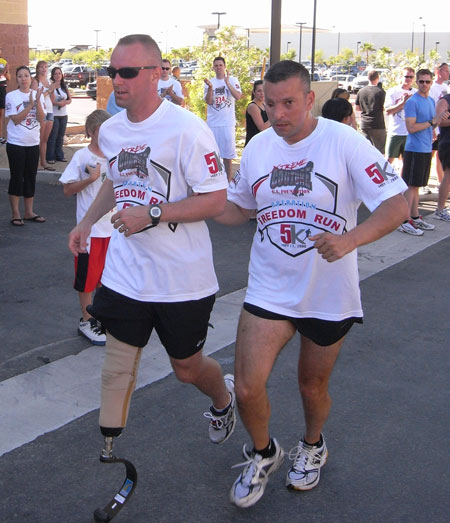 These were two of the veterans coming across the finish. The one guy obviously is running on one of the cool racing legs. The other guy lost both of his eyes doing what he believed in. It really brings to mind how committed is one to the things he believes in. How much are you willing to sacrifice for what you believe in?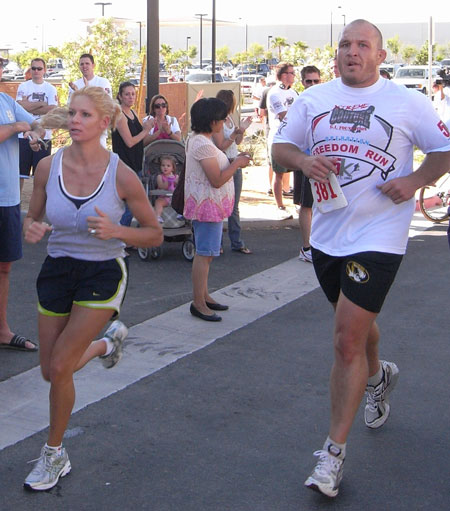 Here is Kim Couture and Mike Whitehead finishing the race. By this point it was probably coming up on 100 degrees.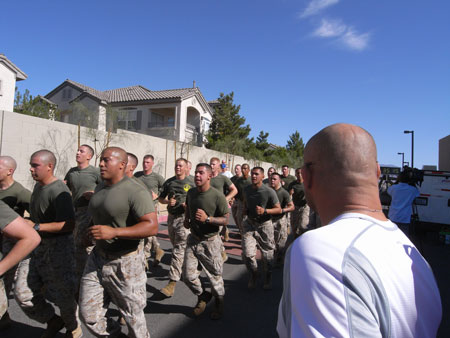 Here come the Marines at the end of the run. Randy stood right out there in the heat, smiling and taking pictures through the whole run.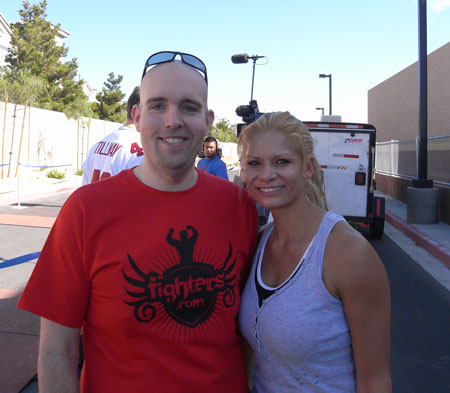 Here is Mr. Jeremy Schoemaker and Kim Couture.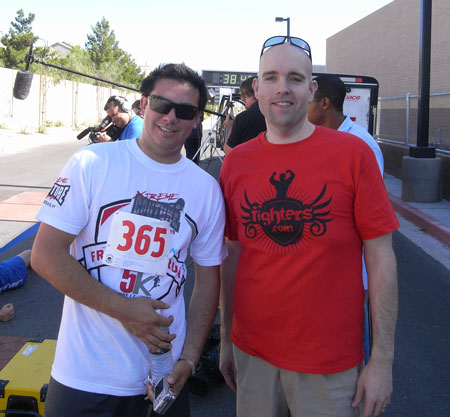 This was awesome. This guy came up to Shoemoney and said that he was a reader of Shoe's blog.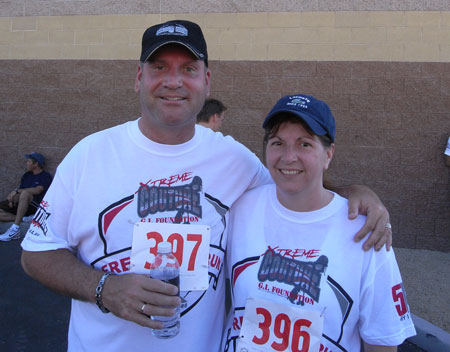 This is Douglas Charlie Fenton. He has been blown up by I.E.D.s (those improvised bombs) three different times. If you ever find yourself giving up after a little adversity, just think of him. Can you imagine after having two of those things blow up on you still sticking with it and going out to do your job again?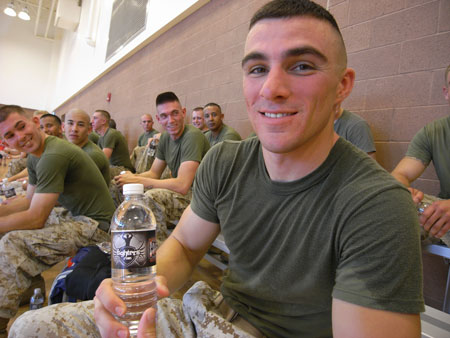 Jeremy (Shoemoney) was the major sponsor of the run, so they put the new fighters.com logo on all of the bottles.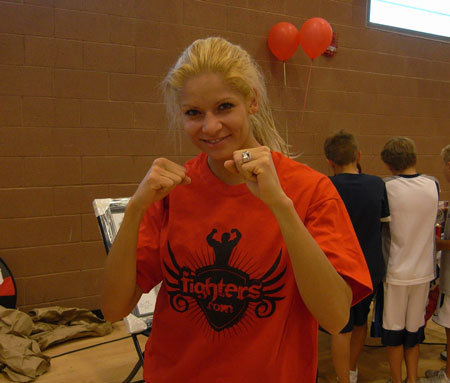 I asked Kim if she would put on a Fighters.com t-shirt for a photo. She happily agreed. Then afterwards I asked if she wanted to keep it. She said "Of Course!"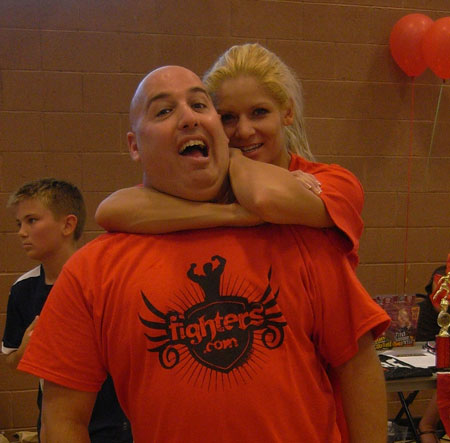 I then asked Kim Couture if she would get me in a Choke Hold for a photo. It looks cute and funny, but I could feel the pressure, and there is no way that I could have gotten out of it.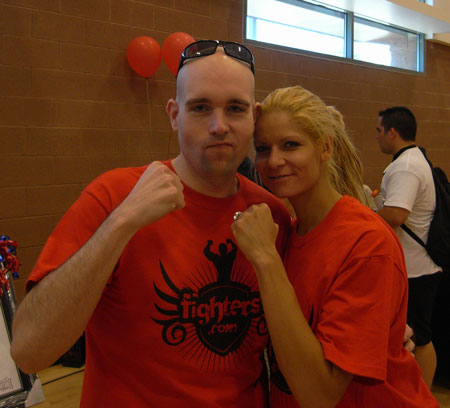 I just think this picture is adorable. Jeremy puts out an image of being kind of tough and edgy. There is also what I consider the real him underneath, and I think this picture really captures it.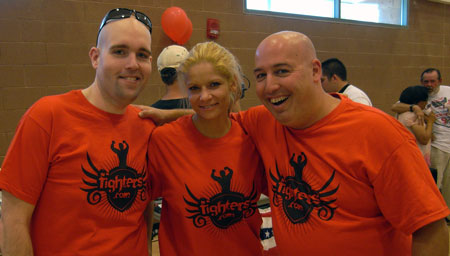 Just a dam fun photo.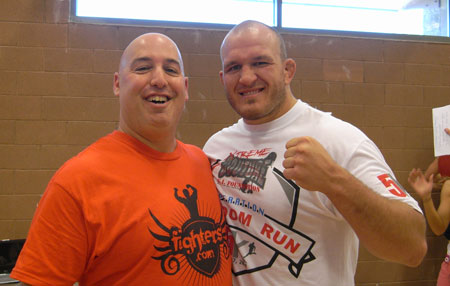 Mike was just the coolest guy. When you saw him fight he looked bad ass as all hell. As soon as he was off the mat he was all smiles and jokes. Right after this picture I asked Mike if he would take off his shirt and trade with me so we could get a fighters.com shirt on him for a photo. He didn't even hesitate, and just ripped off his shirt. I did too, but I think Mike looked more impressive.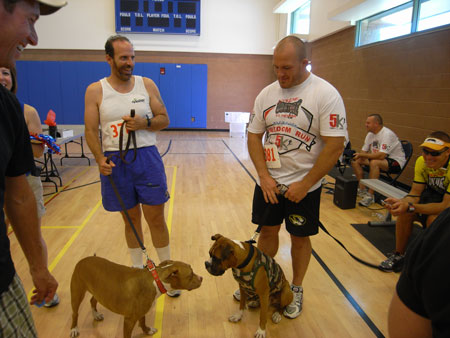 This is Mike Whitehead with Shawn Tompkins Bulldog. Shawn, not in the picture, is Randy Couture's trainer.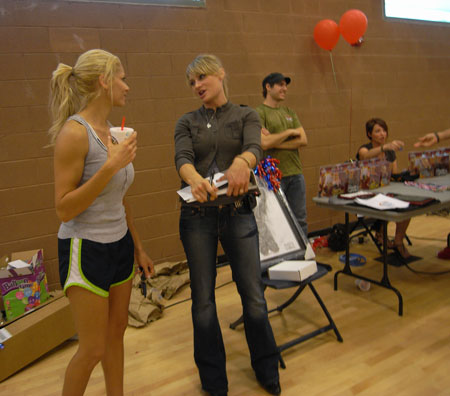 From left to right we have Kim Couture, then Ryan Couture's girlfriend who was so cute i could barely stand it, then Ryan Couture, then Valerie who handles scheduling and business matters for Randy who was also drop dead beautiful. Randy surrounded himself with gorgeous women working with him.
More importantly each and every one of them were as sweet as can be including Randy, his kid, and Shawn who i never got a photo of. I honestly expected a little bravado and tough guy fronts from their group.
I personally have interviewed thousands of people over the past 20 years, and consider myself and expert on judging and choosing staff. Randy has hand picked a group of the nicest, warmest people I have ever met. In fact the ONLY other place I have ever seen such a concentration of sweet people is my chiropractic office.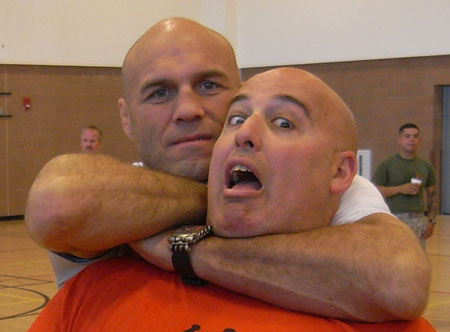 Randy Couture with me in a rear naked choke. What can I say about this one?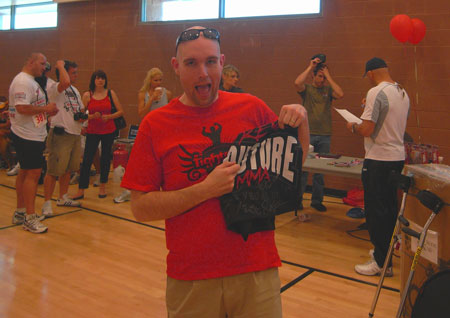 They had a raffle and after the first few prizes were won, I looked over at Jeremy and said "You will win the next one!" He didn't, but he won the prize after that. Jeremy won a t-shirt with a bunch of the top pros signatures on it. The next prize was the same thing, and I won!
This nice woman looked at me and said with a sad look in her eyes, "You won my prize! I wanted to win that!" I almost felt guilty enough to give it to her. I am glad I didn't because of what happened next.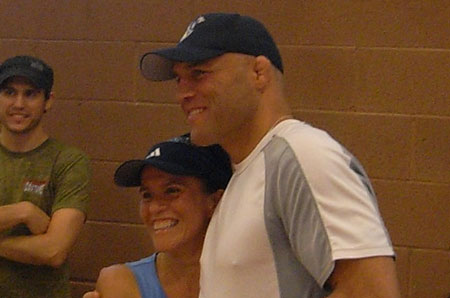 The same woman then won the next two prizes in a row! First she won a signed lithograph or poster of Randy. Then on the next drawing she won a ONE HOUR TRAINING SESSION WITH RANDY!!!! Then I was jealous of her.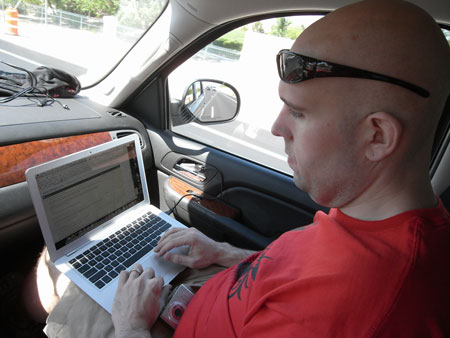 As we left the event Jeremy whipped out his Airbook. He has a way cool, I am going to buy one this week, Sprint internet card. You can see it hanging off the back right part of his computer, and resting on the armrest. It looked like a little cord that plugs into the USB and that is it. It was way fast. He then downloaded all of the photos off of my camera and got them onto his blog before I even was back to the hotel!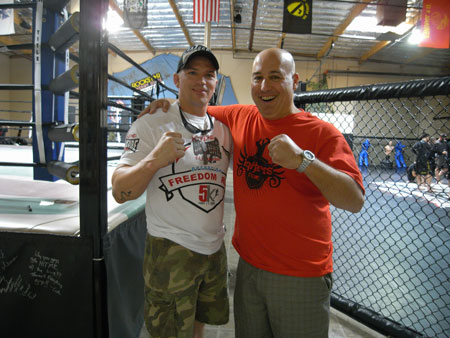 I went back to the gym and ran into Shawn Tompkins. This guy is Randy Coutures trainer. A formidable fighter himself, he has also trained 10 different national and international champions in different styles. So there were a few things that were pretty crazy about meeting him. First off, again, was this warm smile and truly open heart. You could just feel it. The other thing, and I hate to even mention it because I feel like it is my personal secret, is this. For $150 you can get trained by Shawn. Look, I am in Vegas about 4 plus times per year on business. I usually mostly work, walk around with my wife, eat, and go swimming. From now on when I go to Vegas I am going to call Shawn.
For the price of what you will lose in Las Vegas at the lowest limit table at the Mirage in 30 minutes, you can get trained by someone who is arguably the best fight trainer in the world. I am so pumped about this, that I might just need to take another trip out there soon to take advantage of this.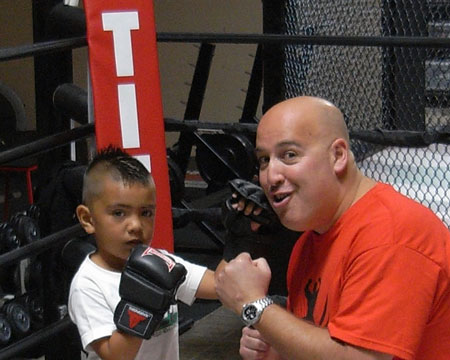 You may have seen this fight on pay per view. They charged 25 cents and we had 2 viewers.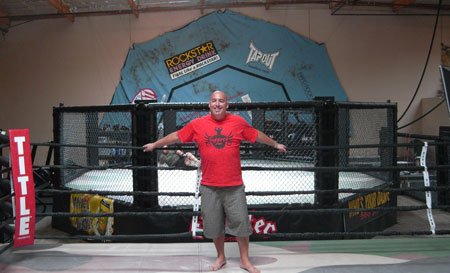 Just standing in that ring bouncing up and down makes you feel like you want to fight someone. I am sure if someone had just tapped my nose, I would have ended up crying and getting the Lysol and gloves by the shake machine.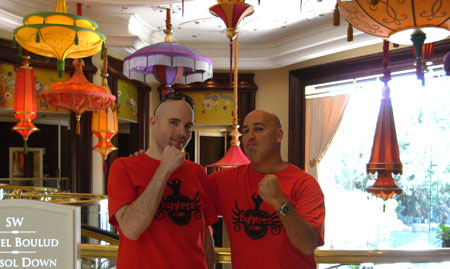 Just a cool picture.
Thanks for looking at all of this.
To the whole Couture family, Love you guys! Thanks for being such gracious hosts!
Readers, Please leave a comment so I can hear what you thought!