Written by / Posted in
seo
/ 10 Comments
As any of you who know me at all know, I have not done SEO work for fortune 500 companies, or made $1,000,000 per year from SEO.
What I have done is make some incredible friends in this Internety industry.
My own sites have done fairly well also.
My bread and butter as most of you know is from being a chiropractor, and we are crazy busy.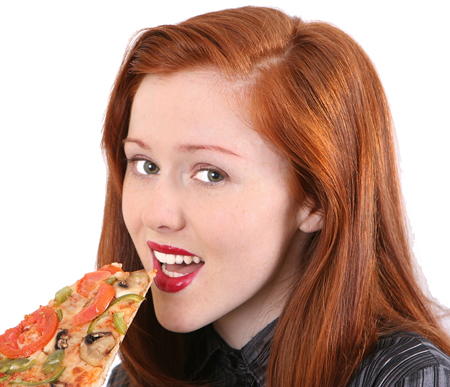 I love pizza. I also try to eat healthy, and in La Jolla there is only one place that delivers salad to your office, and they are Extreme Pizza.
Well one day the owner who has delivered the pizza and salad to our office many, many times had stopped in. We got to talking about the Internet, and since he knows that our site is usually around #1 for La Jolla Chiropractic, I asked him how his site does in Google?
He said they paid a good amount each month in paid adds, but would love to do well in the free stuff. He also told me he had just spent around $1,000 for a print add that had resulted in virtually nothing.
I took a quick look in Google, and realized he did not even show up in Google Local, which as you know shows up higher than the organic listings most of the time.
I suggested that I help him for an hour in exchange for $500 worth of pizza and salads. I figured on my end it was a good pay, and on his end I could probably give him some ideas that would increase his sales by a lot more than $500 permantly, or as long as Google does what they are doing now.
He knew me allready, and trusted me, and agreed to the deal.
I cheated and actually put a few hours of work in ahead of time to make sure I could hit a home run. This was the first time I have ever been paid to do SEO, so wanted to make sure I delivered the goods.
First off, his site had all of the right characteristics to be number one, or close to number one in Google local.
The truth is I have pretty much cracked the code of what you need to do to be number one in Google local. I have promised a few people not to state publicly exactly how to do that 😉
What I found was a simple and easily overlooked error on his part, and it required nothing fishy, but pure shiny white hat SEO that would make Matt Cutts proud of me.
He had started to fill out the Google local application, but had failed to follow the final verification process at the end.
So when he arrived I sat down with him and I went over the basics of what we were looking at on the screen on Google. I showed him where his paid adds were, what the local area was, and what the organic was.
His store is the only place in La Jolla that delivers real quality pizza. I seriously love his pizza, and the salads are to die for! All of it is really healthy too, especially if you have them use extra meat to give it a higher protein to carb ratio.
The most valuable search term I could identify was simply "La Jolla Pizza Delivery" as this could generate a ton of revenue if he comes up on top.
We logged in to Google Local. Then we spent the hour coming up with really good terms, and interesting copy that sounded good to us to fill it out. I am by the way one of his better customers, so if it sounds good to me, it will probably sound good to his other customers too.
Then when we were done, we verified the listing.
It took a few weeks to show up, but now here it is!
Here is the full page today of Google for – la jolla pizza delivery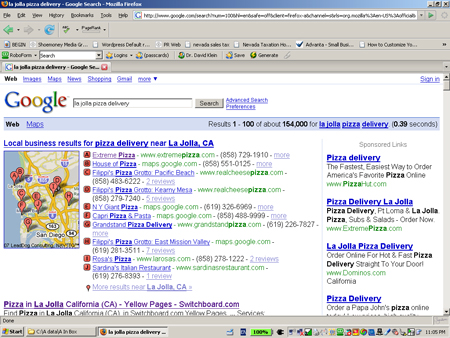 Here is a zoom in of the top of the local section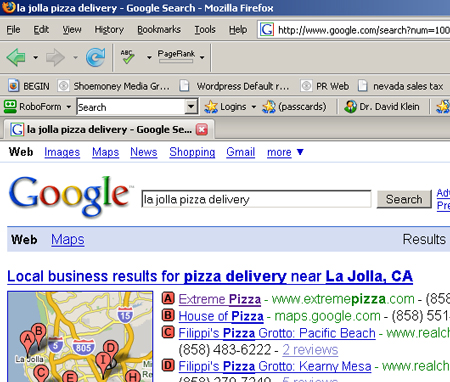 There it is, front row, center! Extreme Pizza.
I was quite proud of my little accomplishment. The client is thrilled. And I have lunch paid for, that will cover the next few months.
Here is the Extreme Pizza owner's letter,
Dear DK
I really want to thank you for helping me start the process of marketing my restaurant Extreme Pizza. I have found the whole computer process to be overwhelming and daunting but you have done the quality work that I was looking for in the shortest of time. My time is limited and the expertise that you have has really made me appreciate the energy it takes to make a first class site. The work you did with Google has already resulted in increased sales and more satisfied customers.
Thank you,
Kevin Smith
P.S., I will be reporting my trade to the IRS as it is a taxable event, just in case anyone was wondering!