Scroll Down For More…
To apply email me at dk (at) purposeinc.com
What thinktank Is Not:
No Speakers, No Pitches, No Conference Floor, Absolutely nothing is sold there, and No Beginners
What thinktank Is:
3 Days of super successfull guys helping each other succeed, Invite Only, Strict N.D.A., On the Beach, Masterminding, Facilitated Networking, in a Tent 20 Feet From The Sand, Open Bar, Amazing Healthy Food, Surfing, MMA Training, Only Positive Helpful People, A Summer Camp 3 days Sep. 18, 19 and 20, with some of the most successful Internet Entrepreneurs in the World,  and in Bars and Restaurants in Del Mar CA, Everyone focused on helping the rest of the group crush it.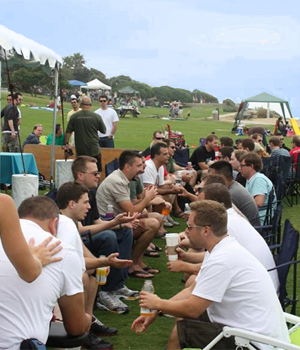 PHOTOS FROM PAST THINKTANKS AND OTHER PURPOSEINC EVENTS HERE
thinktank is an internet business event for people making money with the internet, internet entrepreneurs, information marketers, affiliates, SEO's, Web 2.0's, site owners, domainers, programmers, and anyone else making money with the internet. THIS IS NOT A CONFERENCE!
It starts off ocean front, where everyone will get a chance to meet each other, discuss their current projects, goals and areas of expertise. After that it will be a nonstop three days of fun in the sun, surfing lessons, crazy fun activities, and nonstop networking, problem solving, strategies of success, and oh yes, drinks.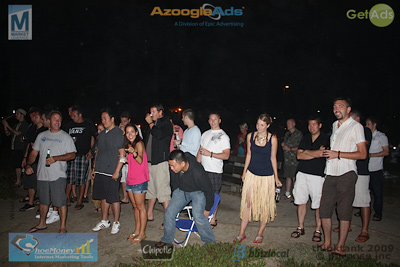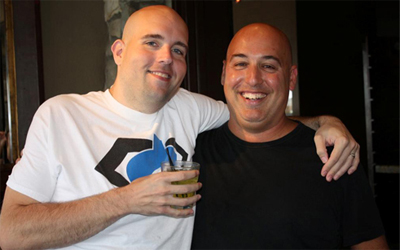 This is a big event, for big kids who like to have fun. Don't be surprised. 😉 Don't come expecting to be lectured to, or led by the hand. This is an event for THOSE WHO ALREADY KNOW what they are doing, and are looking to network with the best of the best.
This is a fun group who is not afraid to be a little wild. Don't come if you are easily offended. 🙂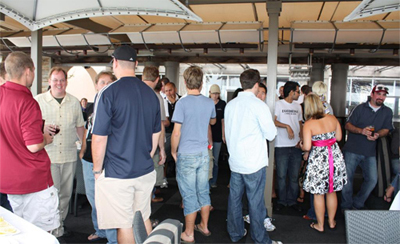 We will have an open bar for in the evening each day. We will have excellent food. We will have lots of fun activities that you can either be part of or just watch. It aint fancy. We will be hanging out in an open air tent 10 feet from the sand in Del Mar, and in excellent restaurants and bars. It is shorts and t-shirts for most of the event, with a sweater or jacket suggested for the evenings. (Some nights a lot of the people never slept 🙂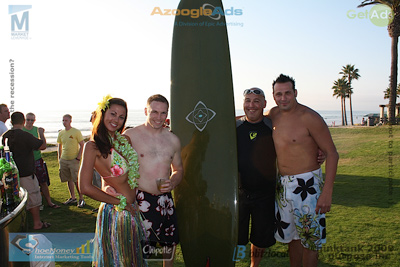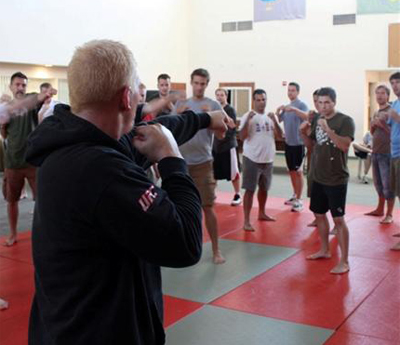 Most of the people  hang out at night after the event at the hotel until early the next morning. For the cheapskates there is another Motel next door to the event that costs less. At the end of last years event, thinktankers were not just networking with each other, but in the majority, were close lifelong friends. I saw a lot of people leaving the event with big hugs. We originally almost named the event ThinkTank Summer Camp, and that name still really fits.
The last few years there were more than a few new businesses created as a result of those who first met at the ThinkTank, and lots of deals made that are still rolling along with big money changing hands. We have had spray on tattoos, chair massage, chiropractic and MMA training by the two top MMA trainers in the world.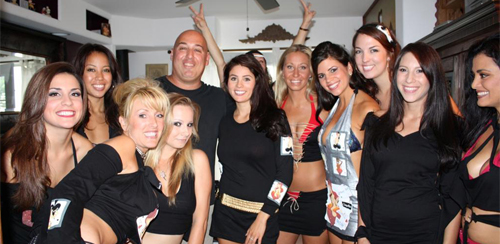 When you go to the big conferences now, you will often see this group getting together for dinners or just moving through the conference as a pack!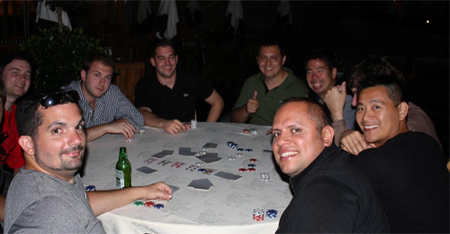 Watch your E-mail for an invite, and if you get one sign up quick as your invite code will only be valid for a short time. Also the main hotel WILL sell out completely, so sign up now and afterwords get the hotel info and sign up quick, or you very well may not get to stay in the main hotel.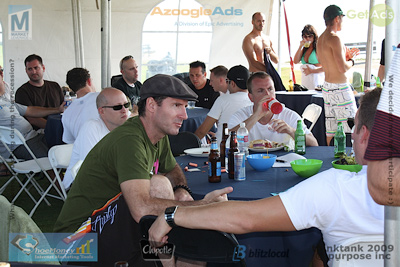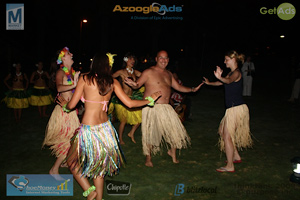 If you are not on my e-mail list, and think you should be at the event, fire me an e-mail at dk (at) purposeinc.com. Let me know a bit about who you are and what you can add to the group.
Check out the photo galleries of past years thinktanks:
2009
The formal opening ceremonies 😛
George Avery (Get Ads) Surfing
Now Available in Sober (Shannon Show)
Robert Drysdale Jiu Jitsu on the beach
More Drysdale kicking on the beach
2008
First day surfing and the beach.
thinktank park fun
SEO Intelligence Brainstorming
Shoemoney Tools / Purpose Inc. Bikini Event
What people said about thinktank:
Shoemoney posted the thinktank teaser video.
Shoemoney ran a contest to win a trip to thinktank.
What others have said about the thinktank.
Andy Liu wrote about and gave away a trip to thinktank.
John Andrews wrote a flattering post about the thinktank.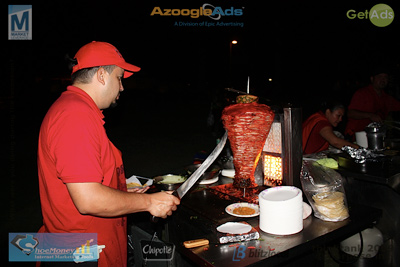 Al's first thinktank post.
Al's second thinktank post.
Eric Itzkowitz talks about how he got his a$$ kicked at thinktank.
Dave Dellanave busts out a humbly received compliment on thinktank.
Nic n Cher talk about the thinktank.
David Temple all the way in Asia discovers the thinktank.
Zac Johnson writes before the thinktank.
Pamela Lund writes her opinion of the thinktank.
The Mad Hat Aaron Chronister discusses the thinktank at the end of his post.
Cameron Olthuis discusses thinktank and the surfing there.
Chris Hedgecock announces he is going to thinktank.
Scott Skinger writes about why he goes to thinktank.
Jeremy Hermanns writes about the SEO Intelligence event at thinktank.
MrWebGuru applauds thinktank.
*Rules of thinktank – Each attendee will be required to sign a non-disclosure agreement and a liability waiver before the event begins. This means you will promise not to discuss anything you learn at the event with anyone unless you have the (sober) permission of the person who told you. Also, you will most likely decide to participate in the activities, some of which can be quite physical (or you can decline to participate), and you can easily get hurt, surfing, Mixed Martial Arts, drinking and having fun with other guests after you have, etc. etc.  No refunds under any circumstance. Discount coupons and invitations are only to be used by those they were issued to. The price you pay to Purpose Inc. is for the event. It includes things like the venues, food, any drinks served during the thinktank events, entertainment, activities, and staff. The fee you pay does not cover your hotel costs, transportation to and from the airport, or things you buy outside of the official thinktank hours or locations. You will be given a specific schedule to let you know what is officially part of the event or not, but mostly the event goes from around 10 am to around 10 pm for each of the three days. During that time you will be served great food, and from around 3pm to 10pm there will be an open bar.  You're a big kid and responsible to keep an eye on everything yourself, and some people will probably be disappointed in some way so there are no guarantees you will be happy. If you tend to be a bit of a complainer, please just don't sign up. 🙂 Also, if you fill out your surveys you receive carefully you are more likely to get food you like, and food within any dietary restrictions you have, and have the event of your dreams. The hotel will almost for sure sell out before the tickets do, make reservations quickly. At this second hotel rooms are selling for around $300 per night, but can easily be $500 at this place. There is another great motel right on the beach next door. Either way, make your reservations immediately.