Listening to Punkrocker by German Band PunkRokerz (would someone get them a website?) while I am writing this. (Scroll down to the last song in their list)
This has been a very fortunate and exciting week.
First off Shoe announced his banging contest for someone to win to go to the ThinkTank.
I then watched as the post shot to the top of Sphinn in what someone said was record time.
Then I watched as the post was removed from Sphinn by a guy named, seriously, Evil Green Monkey. Is that made for an Angelina Jolie and Keaneu Reeves movie or what?
Also, I discovered that when we are hanging by the actual beach in Del Mar they have crappy EDGE signals, and I am sure not 3G. You will be able to get phone calls and text, but not much else. The whole city of Del Mar is like this. The hotel does have excellent Wi-Fi per my tests so far, so when you are in your room, or when hanging out in the hotel lobby, Wi-fi is ready to roll!
While all of this was going on I got numerous requests for invites to the ThinkTank. Some of them from mind blowingly competent, successful and amazing people, and some from those working on becoming that way 🙂
I also got some cool requests from people and companies who want to be sponsors.
Some of these we will not be working with. Also, the ThinkTank is bulging at the seems. We will be cutting off entries very soon. My apologies to those I already said no to.
One sponsor and attendee that I could not possibly say no to is friend Cameron Olthuis, who e-mailed me and asked if I would accept a sponsorship that would also cover surfing lessons for all of the attendees. Are you kidding me? Practically every Friday, Saturday and Sunday you will find me at La Jolla shores surfing somewhere between brilliantly and what is known as a toad. I have wanted to have surfing lessons at the ThinkTank, but will be pretty busy myself those days, and wouldn't trust that job to most people 🙂 Cameron is going to get together some of his bros in the area that have taught surfing to disabled veterans in the past, and see if we can get some Internet Geeks to shoot some curl!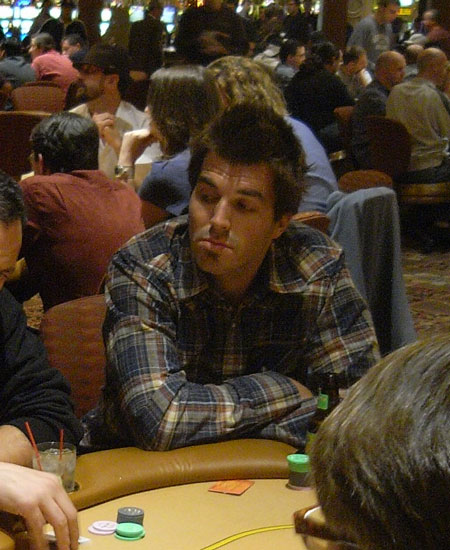 One of Cameron's companies, which profiles surfing, skating (Think Dog Town and Z Boys not Blades of Glory), and snowboarding is the official sponsor. Anyone who is close to me knows my history with what are now called Extreme Sports. When I was a kid my life ran parallel and bumped into the Dog Town and Z Boys story. Basically I was a rat who skated peoples pools in their back yards, skated the empty banks and drainage ditches of L.A. and sometimes got in trouble as a result. I also was a professional skimboarder, an ocean Lifeguard in Laguna beach and to this day love the ocean so much it hurts. I have won a lot at extreme sports and lost a lot, not in financial terms but in status, ability, and self esteem. So I am STOKED to have this as part of the ThinkTank. If you are not an athlete, don't want to be seen in a bathing suit, or are terrified of sharks, don't worry, you can sit in a comfy chair on the beach with a drink in your hand and watch the action.
In the midst of the action, I was also super excited to see an e-mail from Sean at SEMJ.org
The first news was that in addition to being a sponsor of the Purposeinc ThinkTank they are putting up $500 spending money to the winner of Shoeomoney's contest. Also, for the uber geeky like myself Sean and Shannon, want you to sign up and get the first scientific journal about internet marketing, business, SEO and the like. They answer questions like, Will you really make money online in 30 days or not 🙂 Seriously the journal is taking on the huge dragon of what actually is truth vs. fantasy online. What works, what doesn't? Let's get some numbers and proof behind it. Then Google will change the algo, and get rid of browsers. SEMJ.org is positioning itself, not to be the cutting news source, but to be the publishers of truth as opposed to speculation. If you want to sign up, go to SEMJ.org registration page and use code SEMJ08 to get 40 bucks off the usual $129 price. Trust me I am all about bling, but numbers and truth are always behind it.
Also SEMJ.org wants anyone who can put sentences together in a coherent fashion to suggest or submit articles for the journal. My personal feel is that initially the scientific bar will be a little lower to get in at the beginning, and then later it will be harder and harder to be accepted. So here may be your one chance to look like a scientist!
The post is really over at this point, and I honestly wish you wouldn't read the next part. It is totally self serving, bragging, not really totally true, and me simply indulging myself after a few years of hard work.
So honestly, please don't read the last part.
I know Alexa data is not accurate. Techi people who know more about such things than I do tell me that only some users effect Alexa, so it is far off from being accurate. But….
I still indulge myself and compare my site against other sites I think are important. The two sites I check the most are Matt Cutts and Shoemoney's. They are both my heros for totally different reason. If there was a Shoelett fan club I would join it. I already have Matt Cutts face tattooed on my arm. I love these guys to pieces because both of them have helped me wayyyyy beyond what was necessary. Literally brings me to tears, no joke. 🙂
So here is my little indulgence. After Shoemoney wrote his post about the ThinkTank it has sent over a ton of traffic. Then all of the Shoe Minion (of which I am one) wrote posts about the ThinkTank. This just caused a ton of traffic. Notice by the way, it came totally separate from any search engines. I forgot I told you not to read this, so I am probably just yacking to myself!
Well, anyway, here are the images from Alexa when I compared purposeinc.com to Shoemoney.com and MattCutts.com
I'll enjoy the view from here just for a brief moment.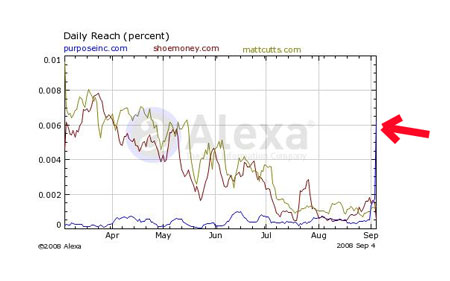 The red arrow points to where purposeinc.com traffic is according to Alexa.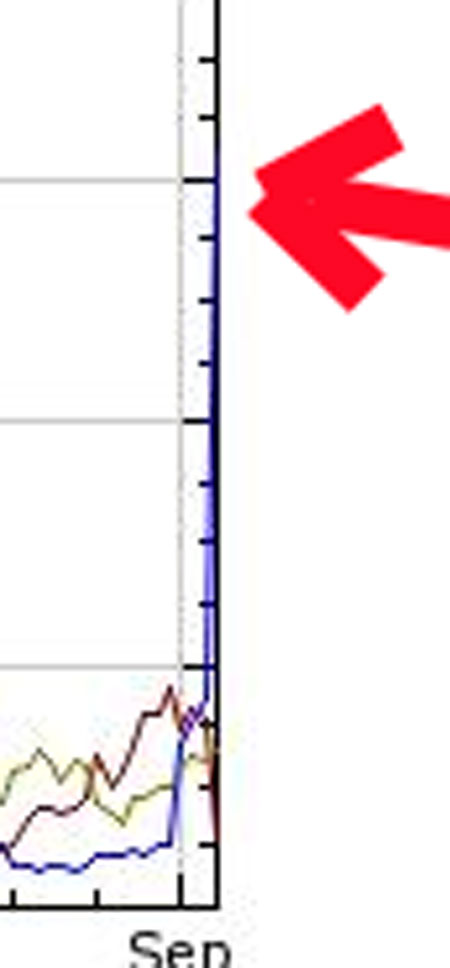 This is the detail. Maybe 4X as much traffic as the other two sites? according to Alexa which I don't trust.
So sponsors, I hope you feel you are getting good exposure.
Advertisers, this gives you a good idea of what Shoemoney can do. That's a hell of a lot of power!
Thanks Matt, Thanks Shoe for everything you two have done for me!
Now why the title? Well, it is just that the real power of doing well online comes from those you know. It comes from the relationships you form online, at conferences, and at work. The only reason I am having any success at this is because of the people I know. Other than chasing Evil Green Monkey over at Sphinn today, I am usually a very nice person to almost everyone (except the bad guys).
I really do love the internet, and love the people associated with it. Stefan, Danny, Matt, Pam, Neil, Shoe, and the rest, Thanks!
I'll just bask in my little success sunshine for a minute, but then i have to get back to work. I have guests arriving!