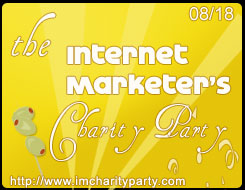 This post is about a charity party, go here if you are looking for ThinkTank info.
When I first went to Pubcon I felt very left out. Here I was in Vegas with 2000 other Internet geeks who were into SEO, 301's, linkbuilding and all that jazz, and yet when the sessions were over I had met like 3 people, and no body wanted to have dinner with me.
That is why I started the poker tournament.
Now Todd Malicoat, stuntdbl, has put together a place where the cool and the noobs can rub shoulders. If you are a noob, and want to meet any of the elite, just come over to me at this charity event and I will force them to meet you.
This will take place next door to SES on Monday night at 8:00. Anyone can get in if you pay the $40 in advance.
The cost is $40 to get in, and the money goes to charity. Seriously, what in this world can you get for $40 that has any value any more?
From my experience to be honest, you will meet a lot more people, get a lot more insider info, and leverage your trip a heck of a lot more by going to this party, than you probably will by listening to any of these guys on stage.
After all, are they more likely to loosen up and give you their secrets while half passed out while draped over a chair at midnight or on stage wearing a tie while like 746 people are watching them including possible future and past bosses and clients?
Neil Patel, and myself are planning to challenge Shoemoney and Dave Dellanave to a breakdancing contest, winner take all! Just don't ask me to get down on the floor as I might not be able to get back up!
Register for the party here,
pages.teamintraining.org/sf/nikesf08/imcharityparty
The page broke in firefox, but hey, your an Internet geek, Make it work anyway!